We've been busy working on our third anthology and a few other essays and interviews, but now seemed like a good time to take a short summer vacation from writing/ editing to churn out some hilarious new things for our online store.  Late one night/ early one morning in a humid fourth floor studio that remains a balmy 85 °F after dark, we hatched this idea…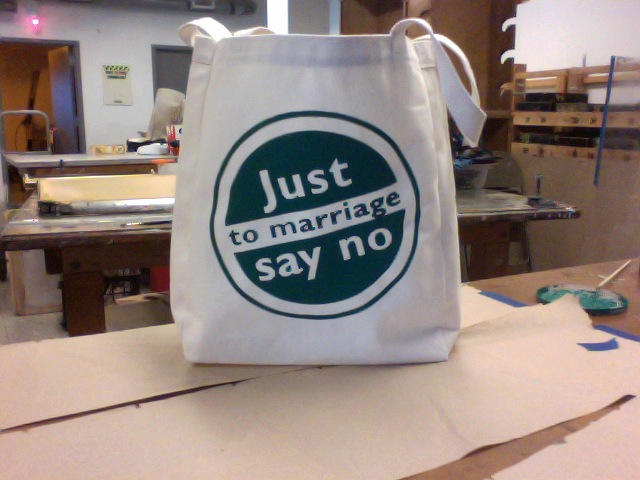 This back to school tote bag, based on the logo design for Nancy Reagan's Just Say No to Drugs campaign, playfully reminds us that heterosexuality (and all its attendant traditions) is indeed the opiate of the masses.  This reusable tote is sure to impress all your recently gay-married friends in the state of New York who are already searching for divorce lawyers.  It will likely raise a few unfriendly gay eyebrows in Maine, Maryland, Minnesota, and Washington where gay marriage will be put before voters this fall. It will also surely impress everyone at your local food co-op, farmer's market, library, or anywhere else where you need a bag for carrying your items.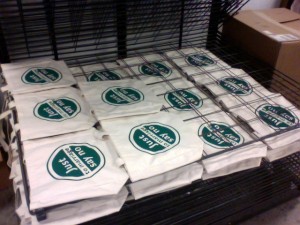 We did a limited run of fifty hand-printed totes that we sourced from a local American company.  These bags are made from natural cotton canvas and measure 11″ x 13″ x 4″.  Each three-panel tote bag is uniquely stitched and printed by hand, so the exact size and print will vary from tote to tote.  But they all look the pretty much the same as seen here.  To get your hands on one of these limited edition tote bags, get on over to our online store and check out our complete line of conversation starters.