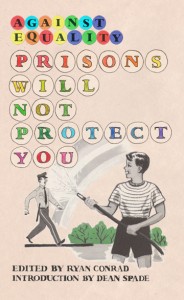 Against Equality: Prisons Will Not Protect You, the third and final book in the Against Equality Collective's pocket-sized book series, takes a critical look at the celebrated passage of the Matthew Shepard and James Byrd, Jr. Hate Crimes Prevention Act of 2009 in the United States.
LGBT organizations have rallied around hate crime legislation (HCL) in an effort to address the violence faced by queers and trans people, but the writers in Prisons Will Not Protect You  point out that HCL only extends the reach of the prison industrial complex.  Hate crime legislation ostensibly provides added protections to minority groups and serves as a deterrent against future crimes by extending and enhancing penalties.
However, as the writers in this anthology show, hate crime penalty enhancement has no proven record of preventing anti-queer and trans violence.  Furthermore, HCL disproportionately targets the poorest populations, particularly people of color, who cannot afford the legal resources necessary to fight back against charges of having committed "hate crimes."  Ironically, they are from the very same marginalized communities that HCL is supposed to protect.
Prisons Will Not Protect You, edited by Against Equality co-founder Ryan Conrad, analyzes the inequality and violence perpetuated by hate crime legislation and its role in perpetuating the prison industrial complex. This archival anthology features an original introduction by Dean Spade, the prominent trans legal scholar and author of Normal Life: Administrative Violence, Critical Trans Politics and the Limits of Law (2011).  
These essays also examine cases of violence towards queer and trans people, including the New Jersey Four and the Texas Four, demonstrating the vulnerability of gendered, raced, and classed queer bodies within law enforcement.  Prisons Will Not Protect You exposes deadly links between state-sponsored violence, homophobia, transphobia, and the criminal punishment system while articulating the need to build better solutions to end all forms of violence.  Arguing that hate crime legislation only helps funnel massive numbers of people into the profit-driven prison system, this book details abolitionist alternatives to harsh sentencing and rethinks our responses to crime and violence.
Eric A. Stanley, filmmaker and co-editor of Captive Genders (2011), writes that the essays "detonate the LGBT mainstream's argument that justice hinges on imprisoning the "correct" bodies and reaffirm that imprisonment itself is the antagonism of our collective liberation."
Proceeds from all book sales underwrite Against Equality's policy of sending all AE titles to LGBTQI prisoners at no cost.  The book is available from AK Press and Amazon.com, and will be available from our own website shortly.