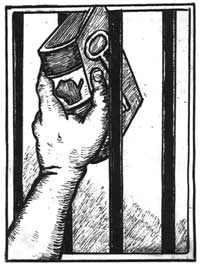 The Against Equality collective (AE) is pleased to announce a new collaboration with the LGBT Books to Prisoners Project (LGBT BtP) in Madison, Wisconsin. Sending free copies of our books to prisoners who ask has been a core part of our mission from the start of our publication project in 2009. As we anticipate the release of our forthcoming three-in-one volume, Against Equality: Queer Revolution, Not Mere Inclusion (published by AK Press, 2014), AE will work with LGBT BtP to continue this practice. LGBT BtP is housed in the Rainbow Book Cooperative and is also supported by the Wisconsin Books to Prisoners Project and the OutReach Community Center. They have a long-standing infrastructure for sending books to queer and trans prisoners in the United States. To date, the project has sent books to almost 3,000 prisoners and currently serves 49 states. Unfortunately, Texas is not currently served by the project, due to insufficient capacity to meet the high volume of requests. LGBT BtP is one of the largest books to prisoner projects focusing explicitly on queer and trans prisoners, and has been in existence for a decade. The project relies entirely on volunteer labor and the donation of money and books from individuals and organizations.
Two volunteers, Irene Toro Martinez and Melissa Charenko, currently direct LGBT BtP, taking over in 2013 after long-time director Dennis Bergren stepped down. AE member Karma Chávez, who lives in Madison, will regularly volunteer with LGBT BtP on behalf of the collective. AE will pay postage costs of sending our books. AK Press will also support this endeavor by supplying books to AE at production cost.  You, too, can support our free books to prisoners policy by making a donation here.
If you (or someone you know) are an incarcerated LGBTQ person housed in any state other than Texas and would like to receive our latest book, or if you'd like to request other kinds of books (it is hard to fulfill requests for specific titles since all available books are donated), please write to:
LGBT Books to Prisoners Project
c/o Rainbow Book Cooperative
426 W. Gilman Street
Madison, WI 53703
We are also working on ways to send our materials at no cost to incarcerated queer and trans folks in Texas as well as Canada. Can you help us? Then get in touch with us directly! Otherwise, more details forthcoming!