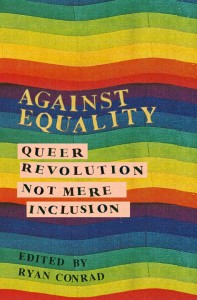 While 
AK Press
 is putting the finishing touches on our new 3-in-1 anthology 
Against Equality: Queer Revolution, Not Mere Inclusion
 we've been busy planning for a spring book tour.  We're still penciling in dates across the US and Canada, but we will announce future tour dates soon.  
Contact us
 if you would like to see us at your campus, community space, or book store and we'll see what we can do!  And if you're feeling really keen, you can 
pre-order books
 online now too!
In the meantime, we've also been expanding our digital archives by leaps and bounds. Our digital archives now boast over 150 critical texts and cultural production from three continents and continues to grow.  Soon we will also embark on a translation process to make our website available in French and Spanish and are currently looking for folks who might be able to donate some time to this huge translation project.
Lastly, next week Karma Chávez and Ryan Conrad from Against Equality will set off for London to do a roundtable event with the 
Decolonizing Sexualities Network
 where they will be joined by fellow AE member Yasmin Nair by Skype.  It will be our first time together in Europe and we are excited to share our work in a new geopolitical context.  We will be presenting our work at the University of London on the 29th November from 6-9PM. Directly following the roundtable will be the book launch for the very exciting and highly-anticipated 
Queer African Reader
!