Over the last year, the Against Equality collective took a step back from our frenzied activity of the preceding six years to reconnect with and embark on other projects. Now that the dust has settled in the post-DOMA and post-DADT United States, we are finding renewed energy to revisit our assembled digital archives. Over the coming months, we will reinvest in this work by creating PDF copies of our archived content. When links to original content go dead, as they often do, we will still have reference copies accessible to readers and researchers. We will also start sifting through more recent content created by activist intellectuals. If there are pieces of writing or cultural work from the last year or so that you think we've missed and which should be archived, please email us with links or attachments.
A few more general Against Equality updates: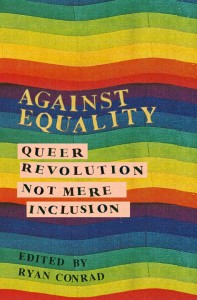 Our three-in-one anthology, Against Equality: Queer Revolution, Not Mere Inclusion, continues to make the rounds. Nearly 8,000 copies have been distributed worldwide. This includes hundreds of copies that were mailed to incarcerated queer and trans people through our partnership with the LGBT Books to Prisoners project. Our book can be found in the libraries of at least fifteen countries across four continents, according to WorldCat. We've managed to get a copy in at least one library in nearly every state and Canadian province. Check out our map below to see if your state or province is covered, and if not, definitely request a copy at your local municipal or university library!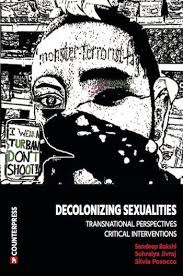 After touring with Queer Revolution, Not Mere Inclusion in 2014-2015, Karma, Yasmin, and Ryan reworked the tour talk into a chapter for the recently released anthology Decolonizing Sexualities: Transnational Perspectives, Critical Interventions. The anthology is a labor of love by our pals at the Decolonizing Sexualities Network in the UK who graciously invited us to speak in London a couple years ago. Check out that new book if you didn't have the chance to catch one of our events, but wished you had. The book is jam-packed with great writing from qtpoc activist intellectuals from across the globe and will not disappoint!
Lastly, we've been getting emails asking when we are going to start selling Against Equality swag again. While our original stock of first-run pocket-sized anthologies, stickers, postcards, pins, and tote bags are nearly gone, we're going to see if we can make some of our swag available again for a limited time.  Stay tuned for details, vintage Against Equality swag is on the way!