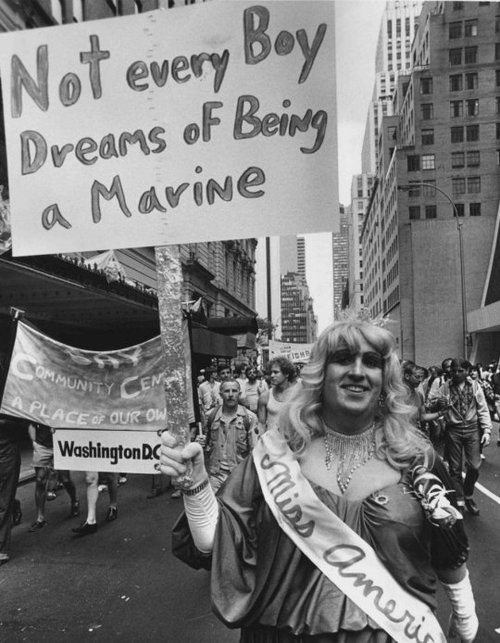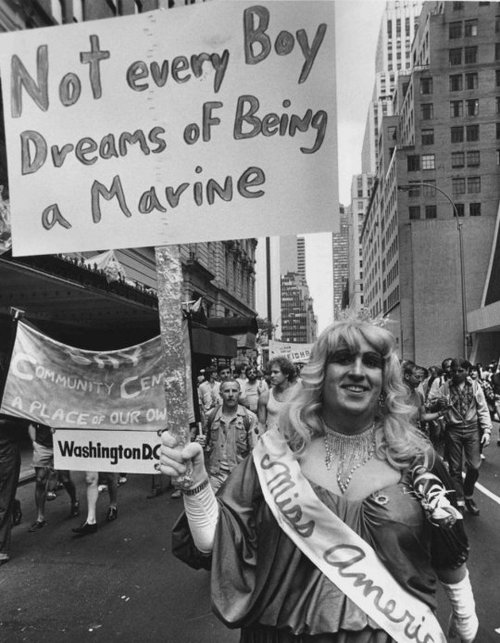 Is it the uniforms?  The always flattering navy blue of a seaman's uniform?  The adventurous khaki of a soldier in the desert?  Or might it be the rituals of military life, the sado-masochistic infliction of rules and tortuous drills, which drive today's gays and lesbians to insist that they ought to be allowed to serve freely and openly in the military?
In public conversations, gays unfailingly draw upon the narrow and patriarchal discourse of the nation-state and the glory of war, as if these were righteous and just and pure.  We wonder if they have shut their ears to the rising tide of anti-war sentiment across the world.  We wonder if they do not see the burnt remnants of entire cities decimated in the thirst for oil, or the corpses of adults and children deemed as "collateral damage" as the United States continues its thunderous march towards a failed attempt at world domination.
And we wonder: Do these gays and lesbians feel the need to engage in fashion homo-geneity or are they suffering from cognitive dissonance?
*          *          *
Against Equality is committed to archiving radical work from all parts of our collective queer history, which is as messy, complex, and complicated as any other. We archive pieces without censorship or exegesis because we believe that an unclouded historical overview is preferable to one that is apologetic or revisionary – after all, our collective began as an effort to combat the erasure of queer radical history and activism by the mainstream gay and lesbian community. To that end, we recognize that, sometimes, the pieces we archive demonstrate language or ideology that is not seamlessly in line with what we might consider preferable today. Rather than revise or erase, we leave all that in as part of our ongoing effort to document queer history as what it was, not what we wish it would have been. In the same way, we also ask that any submissions to the archive be exactly as they originally appeared, without revisions to language or politics.  
>
Text
–
Culture / Media
Queer Voices: Beyond The Queer Mainstream – Beyond Gay Marriage and the Mainstream Gay Movement on 94.1 KPFA with Lisa Dettmer featuring Dean Spade, Kenyon Farrow, & Mattilda Bernstein Sycamore – Radio Documentary (2013)

Queers Demand Poster Series 1, 2, 3, 4 (complete set) – Tyrone Boucher (2012)

Romantic Notions: Gay Soldiers, Cops, and Spouses – Panel @ Simon Frasier University (2013)

Lady Bunny blasts gays who want to join the military – Xtra (2012)

Cartooning Against Gay Imperialism (1, 2, 3) – Mr. Fish, Cartoonist

On Gays In the Military – Bill Hicks, Stand Up Comedian

Don't Ask!  Don't Kill! Bus Shelters –  Truthforce

Queers and "Don't Ask Don't Tell" – Radio  Interview with Denise Morris and Yasmin Nair
–
Links